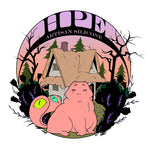 HPE: The Good, the Bad, and The Squishy
Heyo, welcome to the Entourage, home of deliciously squishy silicone adult toys since 2018!

We're a (very) small indie business specializing in uniquely fantastical designs with an emphasis on high fantasy and scifi, and offer a wide range of monstrous lovers for your perusal, from insertable dildos to penetrable masturbators.

All of our items are handcrafted from platinum cured silicone and premium cosmetic grade pigments. Check out our FAQ's for more information on our materials!
Our shop functions on a drop-based system, in which new inventory is uploaded in large, scheduled drops.
Our items' colors are one-of-a-kind; no two will ever be quite the same! While we do occasionally do encores for popular colorations, as our pigments are hand mixed we cannot guarantee exact matches to previous pours.
How can I buy your items?
 
We try to keep a stock of ready-to-ship items available in the various sections of our Parlor shop and upload new items once or twice per month in large inventory drops. Our drops usually feature a selection of specialty colors for the season, and we're always adding new friends to the lineup!
Inventory drops occur on Tuesdays at 7pm EST, and are always announced beforehand. Our tentative drop schedule can be found in our Calendar.

Hot items such as seasonal colors or popular models tend to sell quickly during an inventory drop. Please be aware that items are not held in your cart, which means other customers are able to add those items to their cart and to purchase them. The first customer to complete check out gets the item. Make note of the time zone when planning to attend a drop!
We are not able to offer holds or prepurchase at this time.
We do not offer cancellations at any point unless there is an error on our part. Due to the nature of the items, we do not accept returns or offer refunds unless there is a significant issue.
Please make purchases carefully! We recommend checking out our Compendium catalog and FAQ's prior to inventory drops to pick out your preferred sizes/firmnesses.
What should I expect when I go to make a purchase?
When making an HPE purchase, you'll go through checkout as normal, selecting your preferred payment and shipping method, and providing your shipping information. We recommend you set up an account on our website to have access to your order history, but it's not required!
Please make sure to enter your shipping address carefully, and to double check your info before checkout! We ship to the address provided and have no way of knowing rather it is accurate or not.

After placing your order, you will receive an order confirmation to the email address entered at checkout. Check your spam and promotional folders if you do not receive a confirmation to your inbox!

If you make multiple separate purchases and would like to combine your orders into one shipment, please shoot us a message within 12 hours of purchase on our contact form with your order numbers, and we'll get those combined into one order and refund any shipping overages.
We reserve 2 USD from each order combination for this service.
What should I expect from shipping?


Once your order's in, we get to shipping!

Domestic shipments usually take 1 – 4 business days to process, with an additional 1 – 3 business days for transit. We estimate that domestic shipments will arrive within 1 - 2 weeks of purchase, barring any delays on the postal service's part.
International shipping times vary dramatically between countries and shipping methods, so we're not able to provide specific transit times for global friends. Very broadly speaking, you can expect to receive your international shipment within 1 – 3 weeks, however please be aware that transit could take much longer dependent on your local postal system and customs regulations.
When we purchase postage, you will receive an automatic shipping confirmation/tracking notification to the email address provided at checkout. Please allow 1 – 2 days for tracking information to update! We often purchase postage prior to shipping.


All of our items are shipped as discreetly as possible in plain brown carboard boxes with returns addressed to "Hodge Podge" to protect your privacy.
We are required to list contents on international shipments, and use the harmonized code for "Other articles of plastic." Domestic packages do not display any kind of content description.
What should I expect from your items?


Our items are deliciously squishy, and come in an extremely high gloss, glassy finish! They are visually stunning pieces with a slick, luxurious feel. They are very smooth and low friction, so you can feel more of the texture you want, and less of the drag!
We specialize in sparkly ridiculousness and intense colors!
Oftentimes our cameras are not able to capture a lot of the sparkle and dimensionality of our colors, so there's a good chance that your item may arrive looking much fancier than expected.
While we do tend to lean a bit more towards the opulent side of the dongle spectrum, we do occasionally offer flat or gummy colors.
Pay close attention to listing details! We will usually list if the item has shimmers, intense sparkles, or gummy colors.


The firmnesses we offer are fairly common in the industry and are comparable to other larger companies', but please be aware that fantasy toy firmnesses may run a bit softer than mainstream toys! We're in the business of squishy friends, not diamond cut pieces.
Check out our FAQ for more information!
Now, onto the standard "small business, handcrafted" disclaimer:
Due to their handcrafted nature and the nature of the material minor irregular surface variances may be present on your toy.
The base of your toy is trimmed by hand and may feature small silicone "skin tags," indents, or scuffs from demolding and trimming.
Small defects may be more common on supersoft silicone as it is… Super soft.
The hand-feel of shore firmnesses may vary marginally between toys dependent on the size and shape of the item.
Toys may feature small pigment freckles or other speckles, pigment striations, and other mild aesthetic variations.
These handcrafted variations are not considered defects or flops and should not impact usability or longevity unless otherwise noted!
Please be aware that all items are photographed and edited in house, by an individual with no formal training. While we endeavor to provide as accurate representations of items as possible, mild variations in real-life appearance are possible, either due to the minimal photo-editing that is done to pictures, differences in screen brightness/color/contrast/etc., or differences in real-life lighting.
Most of these variances will not be particularly noticeable (or present at all), however we believe transparency is important!
HPE toys are created, processed, and shipped from a disease- and smoke-free, pet friendly home. While we diligently clean and endeavor to remove any potential debris from toys before shipment, there is always the possibility of a stray hair, clothing filament, or other fuzzy. Silicone is a notorious lint magnet, and unfortunately there's only so many mitigation factors we can put in place.
As silicone can be fully sterilized through a quick dunk in boiling water, or a short soak in a low-concentration bleach solution, no refunds, cancellations, or returns will be offered in the event of a fuzzy hitchhiker.
Wash your toys before use, particularly if you have any pet allergies!
Please keep in mind that we are a very small business of three self-taught individuals. We do not have access to the same technologies, space, or manpower of larger businesses, nor do we have the benefit of multiple departments.

We always do our best, but we do ask that you have reasonable expectations of three weirdos in a basement!
HPE is both a passion project and our livelihood, and we truly hope you find the unique, sparkly monster of your dreams amongst our squishy friends.

Thank you so much for taking the time to support our small business!
Enjoy your stay in the Entourage!